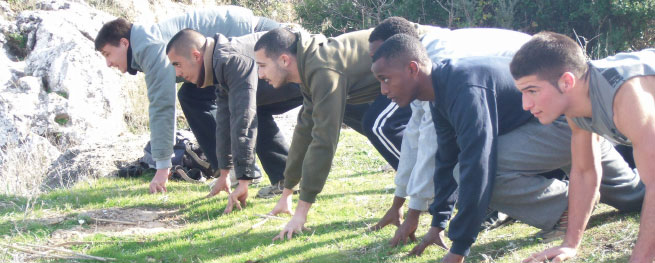 The Zur Shalem program is a four year program in collaboration with the Manpower Training and Developmental Bureau in the Ministry of Social Affairs, the Defense Ministry and the IDF.
This is a long term program providing participants with practical tools, values and a profound understanding of the civilian market. Participants start the program at the age of 18 with a pre-army six month period at a preparatory program at the Tzurim escarpment near the Lavon community in the Upper Galilee. After this period, the participants serve as combat soldiers in the Nahal Brigade along with fellow program participants. Contact with the guides continues throughout the military service.
After completing a shortened period of service, the soldiers return to the program for 8 months, in which they undergo vocational training in the field of CNC. After completing the program, the soldiers are discharged with a combat soldier/honorable service certificate, with a professional certification in the required field and with broad development possibilities.
Program objectives:
Preparing participants for combat service and accompanying them through their service.
Certifying participants as professionals in a required and paying field and accompanying them through the vocational placement process.
Offering a hands-on cultural enriching program.